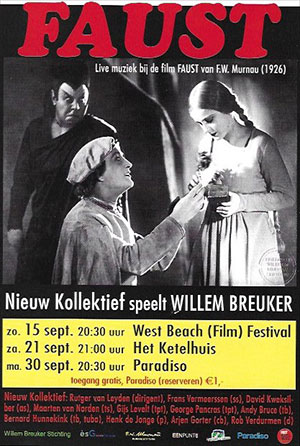 FAUST – Nieuw Kollektief plays WIllem Breuker
zo 15 sept. 20:30 uur West Beach (Film) Festival
za 21 sept. 21:00 uur Het Ketel Huis
ma 30 sept. 20:30 uur Paradiso
Free access, Paradiso (reservation) 1 euro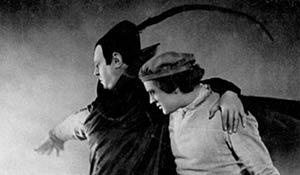 FAUST
Music by Willem Breuker / Ensemble Klang I Friday 8 Marchi 21:15
Faust I F.W.Murnau I Germany, 1926
Mobilizing the full resources of the UFA Studios, F.W. Mumau (Nosferatu, Sunrise) orchestrated a colossal adaptation of Goethe's Faust that ranks alongside Fritz Lang's Metropolis as the greatest achievement of the German silent cinema. Gos ta Ekman stars as the titular alchemist who, struggling with his faith amidst a devastating plague, is offered the power to cure and the gift of youth – in exchange for his soul. As the diabolical Mephisto, Emil Jannings (The Last Laugh) delivers a performance of operatic scale and intensity, by turns charming, comical, and horrific.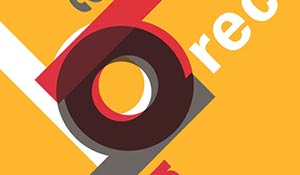 do 17 t/m za 19 mei – 2018 – 20.30u – Ostade A'dam
Zo beleven we Baal, een compositie van Chiel Meijering gebaseerd op het gelijknamige toneelstuk van Bertott Brecht, gespeeld door Jeroen van Venrooij en in de regie van Xander Straat. Ook horen we het onstuimige De Verdubbelaar van grootheid Willem Breuker en een gloednieuw werk van Bernard Hunnekink. Als laatste maakt de ereprijs toch nog een uitstapje naar het buitenland met Tasse/maker van YCM-laureaat Ali Can Puskulcu. Bestel nu uw kaarten voor deze overdadige, provocerende voorstelling!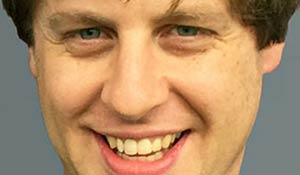 Componist Reza Namavar ontvangt de Willem Breuker Prijs
Op 4 november 2017 wordt in het BIMHUIS te Amsterdam de eerste Willem Breuker Prijs uitgereikt aan componist Reza Namavar.
De tweejaarlijkse Willem Breukerprijs is bestemd voor iemand in wiens of wier werk de karakteristieke kenmerken van het werk van Willem Breuker naar voren komen.
Uit het juryrapport: Reza Namavar (Amstelveen1980) is een dwarsligger en daarin een duidelijke representant van wat Nederlandse hedendaagse muziek anders maakt. In die dwarsliggerij is hij verwant aan de naamgever van de Willem Breuker Prijs. Zijn idioom onderscheidt zich door de ruimte die het inneemt om de absurdistische kanten van ons leven en de wereld te belichten.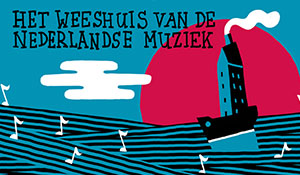 Holland Festival 2017
Concert "Weeshuis van de Nederlandse muziek"
22 juni in Splendor, Amsterdam.
Willem Breuker (1944-2010)
Aah Jonge Eéj (1981)
Holland Festival 1981 (wereldpremière)
Maarten Bon (1933-2003)
Boréal II (1981)
Holland Festival 1981 (wereldpremière)
Talkshow: David Dramm, Olga Zuiderhoek, David Kweksilber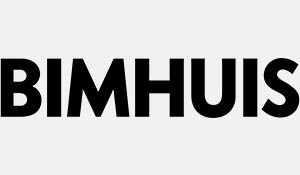 Sat 6 February 2016
David Kweksilber Big Band: Breuker Vuur