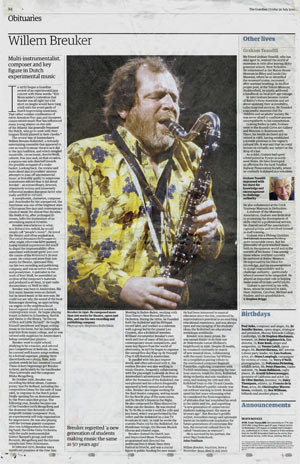 The Guardian 2010-07-30.
Willem Breuker. Multi-instrumentalist, composer and key figure in Dutch experimental music.
By John Fordham.
In 1978 I began a Guardian review of an experimental jazz concert with these words: "Eric Morecambe's contention that Hamlet was all right but a bit short on laughs would have rung a bell with the avant garde of Dutch improvising musicians. That rather sombre combination of 1960s American free-jazz and European conservatoire music that has influenced many young players on this side of the Atlantic has generally bypassed the Dutch, who go to work with their tongues firmly planted in their cheeks."
The review was of Amsterdam's Willem Breuker Kollektief, a riotously entertaining ensemble that appeared to owe as much to music-theatre as it did to the jazz tradition, and which mingled vaudeville, circus music, Brecht/Weill, cabaret, free-jazz and, on that occasion, a soprano-sax solo directed towards the possible occupant of a snake basket. Looking back, the review said more about jazz journalists' anxious attempts to pass off uncommercial music as bearably quirky to suspicious mainstream editors than it did about Breuker – an extraordinary, devoted, obsessively serious and immensely influential modern European artist who really needed no excuses.
A saxophonist, clarinetist, composer and cheerleader for the unexpected, the Dutchman was one of the brightest stars of European free-jazz and contemporary classical music for almost four decades. His death at 65, after prolonged illnesses, halts the momentum of an astonishing musical dynamo.
Breuker was a believer in what, as a diehard 60s radical, he would simply call "people's music" . He loved the theatre and often worked in it. The visual diversions he brought to what might otherwise have seemed taxing musical experiences did much to dispel the impenetrability often associated with avant-garde jazz over the course of the Kollektief's 36-year career. He composed more than 500 works for theatre, opera and film; ran his own recording and publishing company; and was an active educator and proselytiser. A specialist in the work of Kurt Weill, he assembled an archive of the composer's materials and produced a 48-hour, 12-part radio documentary on Weill in 1997.
Breuker was born in Amsterdam. His first music lessons were on clarinet, but he heard music in his own way. He could not see why the sound of the local fishmonger shouting, an approaching car engine or the neighbourhood barrel organist should not coexist in contemporary music. He began playing truant to listen to Schoenberg, Bartók and Varèse in the library, "in the era of Elvis and Little Richard". He taught himself saxophone and began writing music in his teens, but his indiscipline kept him from music college, and he was viewed with suspicion by Amsterdam's bebop-oriented jazz players.
Breuker went to night school, studying to be a teacher, and entered jazz competitions at festivals. At one, he covered well-known songs written by a festival organiser, playing them discordantly on a plastic flute, with random words he had invented himself. These rickety beginnings got Breuker noticed, particularly by the bandleader Theo Loevendie and the composer Misha Mengelberg.
By October 1966, Breuker was recording his debut album, Contemporary Jazz for Holland, including the composition Litany for the 14th of June 1966, in response to the Dutch police fatally opening fire on demonstrations by the Provo anarchist group. The following year, Breuker became one of the founders (with Mengelberg and the drummer Han Bennink) of the nonprofit Instant Composers' Pool, an experimental self-help organisation for improvisers. He was also playing with the German pianist-composer Alex von Schlippenbach's free-jazz big band, the Globe Unity Orchestra; with the multi-instrumentalist Gunter Hampel's group; and with Bennink, Mengelberg and the German saxophonist Peter Brötzmann. In 1969 and 1970, Breuker was a significant presence at the Free Jazz Meeting in Baden-Baden, working with Don Cherry's New Eternal Rhythm Orchestra. During the 1970's, he founded both the Kollektief and his BVHaast record label, and worked as a sideman with a group led by the pianist Leo Cuypers, also a Kollektief member. BVHaast documented Breuker's own work and that of many of his jazz and contemporary-music compatriots, and some key figures from the world of electronica. In 1977 he began to organise the annual five-day Klap op de Vuurpijl (Top It All) festival in Amsterdam. In parallel with this jazz-improv world, and often entwined with it, the restless Breuker was also working in music-theatre, frequently collaborating with the playwright Lodewijk de Boer at Amsterdam's adventurous Theaterunie. After the formation of the Kollektief, the saxophonist and his cohorts frequently appeared in both musical and acting roles. Breuker also began working for the Baal theatre company, writing music for the Brecht play of the same name, and for Brecht's Drums in the Night. He also composed for films directed by Johan van der Keuken. He was invited by Yo-Yo Ma to write a work for cello and jazz band, which was performed by the cellist and the Kollektief on a live TV broadcast in 1992. In 1996 he wrote the oratorio Psalm 122 for the Kollektief, the Mondriaan Strings, the Nieuwe Muziek Chorus and a barrel organ.
Breuker chaired the Dutch Jazz and Improvised Music Foundation, programmed and directed the ambitious Dutch Music Days 2003 festival in Utrecht, and was a crucial figure in public funding for new music. He had been immersed in musical education since the 60s, convinced by improvisation's potential as an enriching educational experience, and was always open and encouraging of his students' ideas; the Kollektief ran educational workshops worldwide.
Breuker won many prizes. He was named Ridder in de Orde van de Nederlandse Leeuw (Holland's knighthood) in 1998. Despite ill-health, he remained constantly in search of new musical ideas, collaborating with the music historian Val Wilmer on a compilation paying tribute to the overlooked composer Reginald Foresythe; exploring crossovers with Turkish musicians; composing the twohour oratorio Jonah for choir, Kollektief, string orchestra and solo vocalists in 2003; and making his 15th and 16th Kollektief tours to the US and Canada.
The Kollektief's public subsidy was cut without warning in 2008. Breuker spent his last years witnessing what he considered the final evaporation of attitudes that had nourished his work in the 1960s and 70s, and regretting "a new generation of conservatoire students making music the same as 50 years ago". But Breuker's prolific output, boundless energy and optimism leaves an incandescent inspiration for future generations of contrarians like him, the recurrent cultural force he called "musicians as warriors".
He is survived by his partner, the actor Olga Zuiderhoek.
Willem Breuker, musician, born 4 November 1944; died 23 July 2010
Photo: Breuker in 1990. He composed more than 500 works for theatre, opera and film, and ran his own recording and publishing company.
Photograph: Mephisto/Dalle/Idols