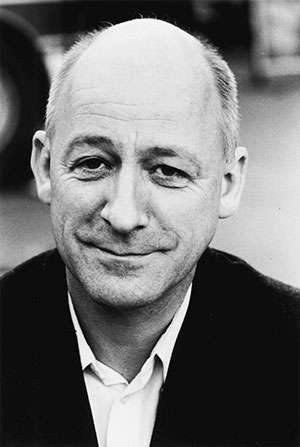 (1944—Dec. 30th, 2018)
The Dutch trumpeter was a member of the late '60s European avant garde jazz group Free Music (among the few non-American acts to be on ESP-Disk'), had his own albums on Group-Music Productions, Eurosound
and BVHaast and credits with the Orkest De Boventoon and Loek Dikker's Waterland Big Band but was best known as an original member of Willem Breuker's Kollektief, appearing on all the band's albums from its 1974 founding. Raaijmakers died Dec. 30th at 74.
NewYork City Jazz Record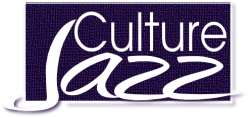 Door Jean Buzelin www.culturejazz.fr – 15/01/2019
Boy Raaymakers (1944-2018)
De Nederlandse trompettist, Boy Raaymakers, vertrouwde figuur van het Willem Breuker Kollektief, is 30 december j.l. overleden. Geboren in Nijmegen op 20 augustus 1944, leert hij trompet als autodidact voordat hij van 1965 tot 1969 op het Conservatorium van Arnhem gaat studeren. Maar sinds 1967 was hij begonnen met zijn landgenoot de slagwerker Pierre Courbois te spelen, met wie hij in Europa tournees maakt. Het Pierre Courbois Free Music Quintet is overigens een van de eerste Europese free jazz groepen die in 1968 uitkwam bij het beroemde avant-garde label ESP. Van 1970 tot 1972 vormt Boy Raaymakers, als één van de aanjagers van de nieuwe jazz in de regio Nijmegen, met saxofonist Peter v.d. Locht een Group Music waarvan met name pianist Burton Greene en slagwerker Noël McGhie deel uitmaken. Terwijl hij zijn eigen Boy Raaymakers Quintet leidt, vestigt hij zich in Amsterdam en voegt zich eind 1974 bij saxofonist en componist Willem Breuker die net zijn Kollektief heeft opgericht. Terwijl hij één van de pijlers van deze buitengewone groep wordt, speelt en/of maakt hij opnames met het orkest van Boy Edgar, het Theo Loevendie Consort (1974-76), de Waterland Big Band van pianist Loek Dikker (1979), J.C. Tans + Rockets (1983-89) etc.
In 1976 vormt hij, met de saxofonist die in het Kollektief naast hem staat, het Maarten van Norden/Boy Raaymakers Quartet en houdt hij zich van 1979 tot 1989 bezig met het jeugdorkest De Boventoon.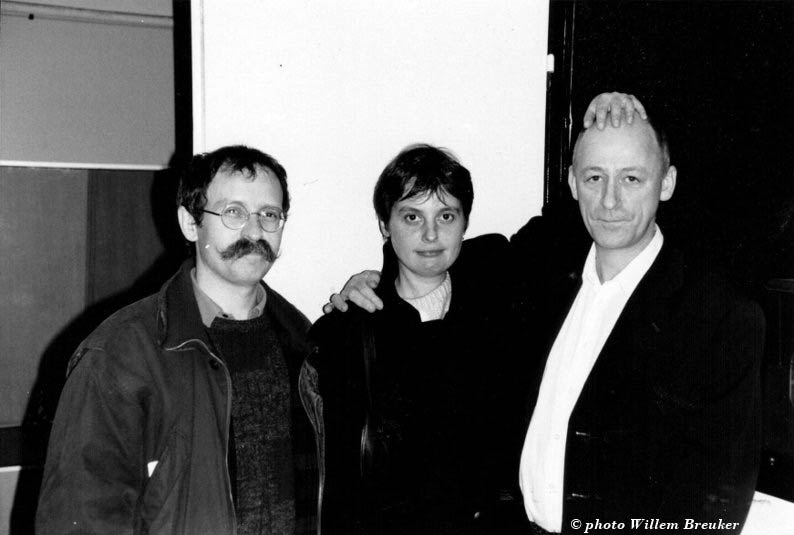 Jean & Françoise Buzelin avec Boy Raaymakers à Nevers en novembre 1990.
(photo: Willem Breuker)
Maar het is natuurlijk het Willem Breuker Kollektief dat van Boy Raaymakers meer dan 30 jaar lang een populair figuur heeft gemaakt op de Franse, Europese en Wereldpodia en festivals. Als trompettist met een vrijmoedige, scherpe inzet, met een briljant en contrastrijk spel en een duidelijke articulatie, en acteur vol humor met dolkomische mimiek, vormde hij met zijn partner Andy Altenfelder, een duo dat elkaar aanvulde in een uitzonderlijke verstandhouding. Sterk verankerd in de grote traditie van de jazz, speelde hij ook hedendaagse muziek. Nieuwsgierig naar alles was hij ook een fervent bewonderaar van de Franse bariton Gérard Souzay. Hij was zeer aangedaan door de ziekte van Willem Breuker van wie hij één van zijn naasten was.
In het voorjaar van 2007 had hij, met tegenzin, het Kollektief verlaten. Toch had hij zijn trompet niet weggezet.
Adieu Boy, onze vriend.
We vinden Boy Raaymakers op vrijwel alle platen en cd's van het 
Willem Breuker Kollektief.
Ter nadere informatie:
 Jean en Françoise Buzelin zijn de schrijvers van het boek "Willem Breuker", verschenen bij Editions du Limon in 1992 (collectie "Mood Indigo") en daarna uitgegeven door uitgeverij Parenthèses.
editionsparentheses.com/willem-breuker
vertaling: E. Zuiderhoek